OPAL's three-year initiative to sustain the vitality of our Orcas community:
increase the number of affordable rentals
expand the availability of mortgage financing
broaden OPAL's ability to help islanders keep a roof over their heads
The island's acute need for affordable housing is putting our economic viability at risk.
The lack of affordable housing on Orcas – especially rental housing – is directly affecting our local economy. Businesses can't find staff to fill jobs because prospective employees can't find places to live.
A survey of employers listed lack of housing as a primary barrier to hiring sufficient employees.* And the problem extends beyond our shops and restaurants. The school district, OPALCO and others need stable, affordable housing to recruit and retain qualified staff.
OPAL is proposing to help meet this need by building the first major rental development on Orcas in nearly 30 years.
Another critical piece to the housing puzzle is lack of financing. Bank rules for mortgage loans have tightened so that many previously creditworthy islanders can no longer qualify. One answer is to turn to private individuals for loans. It's a model that OPAL is pursuing and shows great promise.
* J Robertson and Company, Olympia, WA, 2016

With your support: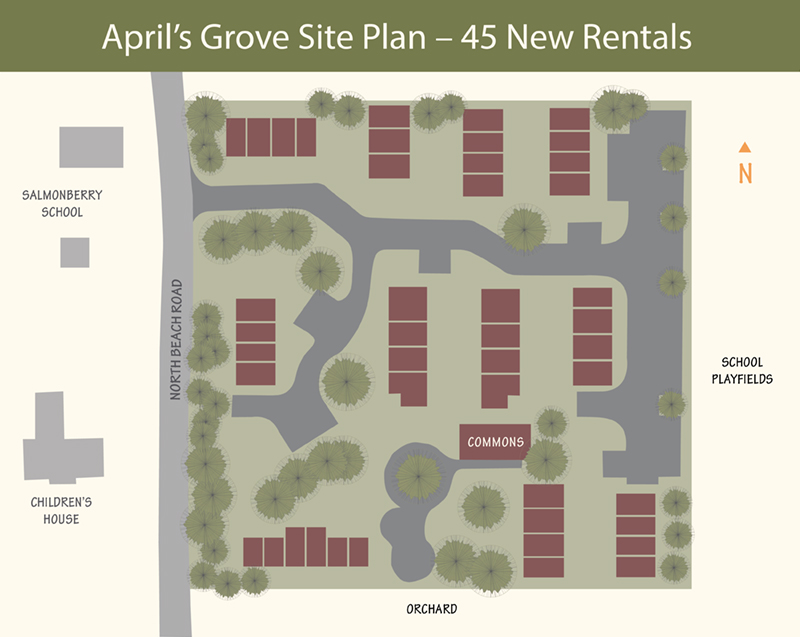 45 new affordable rentals on North Beach Road
In 2015 OPAL identified 3.8 acres of suitable land north of town (on North Beach Road, across from Children's House). After two years of community meetings, planning, designing, and fundraising, OPAL purchased the property in August 2017 with funds donated by supporters and a loan from the Washington State Housing Finance Commission.
When the remaining funding is in place and construction is complete, tenants will be people who likely fit one of the following descriptions:
Individuals earning hourly wages between $8 and $30;
Single parents or two-parent families with children and annual incomes between $18,000 and $48,000;
Elderly or disabled individuals who need housing that is accessible;
Individuals or families who were formerly homeless and may succeed as renters, perhaps with some case management support.
Island Loan Fund to make financing more affordable
Over the past three years, OPAL completed the due diligence needed for creating a community-based nonprofit loan fund, and is ready to launch the fund in 2018. The fund will pool investment dollars from local residents and make loans to creditworthy islanders who are not being served by local banks. These loans may serve both OPAL and non-OPAL borrowers. (Islanders Bank and Washington Federal both support this initiative and have invested time and research dollars.)
To launch the fund, OPAL needs to cover start-up costs. The loan fund will be regulated by government agencies, so OPAL must set up policies, procedures and loan origination software to comply with laws on consumer lending and securities. OPAL will also work with legal counsel to issue the private offering. The plan for the pilot phase is to seek up to $1 million from individuals wishing to make a local investment, and then to loan that money out to borrowers who will use it to purchase a home.
Ongoing stewardship of the island's permanently affordable homes
This three-year initiative includes day-to-day operations and ongoing stewardship of the 132 houses and apartments already in OPAL's care. Cost: $150,000 a year while the rental project is being completed.
What your support for OPAL does for the Orcas community:
You encourage stable families.
With stable, affordable housing, families flourish. People become more productive, less stressed, more engaged – in their work life, community life and family life.
You support local businesses.
Affordable housing means employees have places to live, and businesses can hire qualified staff. The work of the island gets done. Paychecks are spent locally. Taxes are paid. Businesses grow. In addition, OPAL spends project dollars locally, which bolsters the island economy.
You enhance quality of life.
Affordable housing helps preserve the economic and demographic diversity and vibrant character of Orcas – with young and old, retirees and working folks, a range of incomes and abilities.
You create value that lasts.
Because OPAL houses and apartments remain permanently affordable, the benefit of your investment in affordable housing is never lost – and the value of taxpayer subsidies through federal and state grants is never lost. Your dollars benefit generations to come.
Pledge Now
Please download the pledge form in PDF format and return to the OPAL office. We, along with the entire Orcas community, appreciate your generosity.
Find out more about our "Let's do This!" initiative: download brochure and inserts.
Save
Save
Save
Save
Save
Save
Save
Save
Save
Save
Save
Save
Save
Save
Save
Save
Save
Save
Save
Save
Save
Save
Save
Save
Save
Save
Save
Save
Save
Save
Save
Save