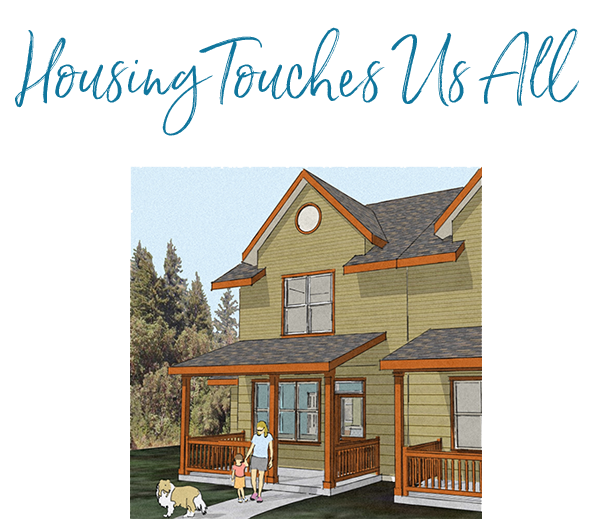 An OPAL effort to sustain the vitality of our Orcas community:
Your generous support can help
Increase the number of affordable rentals by building April's Grove
Broaden OPAL's ability to help islanders keep a roof over their heads
You can make April's Grove a reality
Through the generosity of individuals like you, county, state and federal dollars, 3.8 acres of land on North Beach Road, across from Children's House has been purchased.
Architects have completed a design for 45 affordable rental townhomes and a commons building on the property.
The land use permits are all in hand and the building permits have been submitted to the county.
The community and government partners have donated or pledged over 90% of the funds
needed to build the 45 dwellings – you can make April's Grove happen with your pledge to
fund the remaining 10%.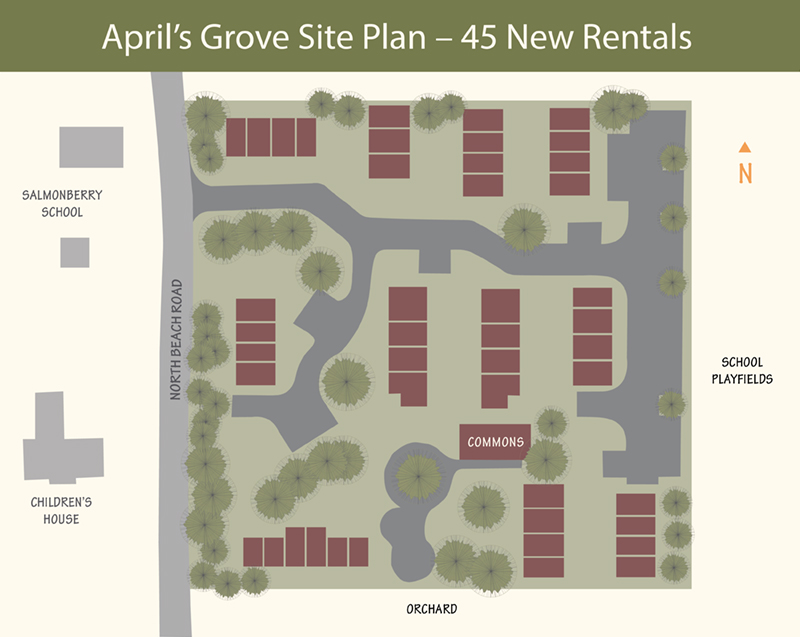 When construction is complete, tenants for April's Grove will likely be:
Individuals earning hourly wages between $8 and $30;
Single parents or two-parent families with children and annual incomes between $18,000 and $80,000;
Elderly or disabled individuals who need housing that is accessible;
Individuals or families who were formerly homeless and may succeed as renters, perhaps with some case management support.
What your support for OPAL does for the Orcas community:
You encourage stable families.
With stable, affordable housing, families flourish. People become more productive, less stressed, more engaged – in their work life, community life and family life.
You support local businesses.
Affordable housing means employees have places to live, and businesses can hire qualified staff. The work of the island gets done. Paychecks are spent locally. Taxes are paid. Businesses grow. In addition, OPAL spends project dollars locally, which bolsters the island economy.
You enhance quality of life.
Affordable housing helps preserve the economic and demographic diversity and vibrant character of Orcas – with young and old, retirees and working folks, a range of incomes and abilities.
You create value that lasts.
Because OPAL houses and apartments remain permanently affordable, the benefit of your investment in affordable housing is never lost – and the value of taxpayer subsidies through federal and state grants is never lost. Your dollars benefit generations to come.
Pledge Now
Please download the pledge form in PDF format and return to the OPAL office. We, along with the entire Orcas community, appreciate your generosity.
Find out more about our "Housing Touches Everyone" initiative: download brochure and inserts.