OPAL Brochures
Download our brochures to learn more about OPAL Community Land Trust.
Creating Homes, Transforming Lives, Building Community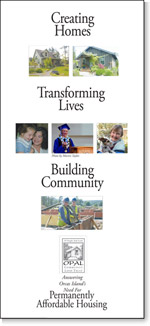 A meaningful way to perpetuate your values and sustain the health of the Orcas community.

Increase the number of affordable rentals and broaden OPAL's ability to help islanders keep a roof over their heads.

Save
Save
Save