The welcome mat is always out when other Community Land Trusts (CLTs) want to visit Orcas. They come to see OPAL neighborhoods, ask questions and share insights. OPAL staff and trustees appreciate the opportunity and the exchange.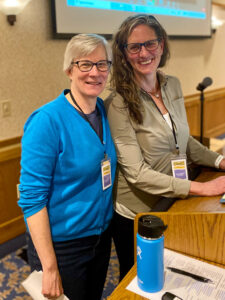 As one of the Northwest's first CLTs, OPAL has developed many different types of housing, successfully adapted to changing community needs and managed countless challenges with each new project. Many of the staff have now worked together for decades, amassing a wealth of knowledge and experience.
"We're adamantly open-source when it comes to sharing information," explained Executive Director Lisa Byers. "We come away from these interchanges with other CLTs feeling grateful and energized. OPAL can provide valuable perspective and it's a chance for us to ask questions and learn."
In the spring CLT staffers came from San Juan, Lopez and Whidbey islands to tour OPAL neighborhoods and talk about how the organizations can do more together.
During the summer, the staff of Kulshan CLT in Bellingham came to visit. Discussion topics included construction methods and energy efficiency, new office systems and how to work more efficiently.
Then in September, the Methow Housing Trust made Orcas part of its annual staff retreat. The new CLT has properties in Twisp, Mazama and Winthrop. On their agenda: interacting with owners and their communities, and growth strategies for the next 10 years.
OPAL staff also regularly makes presentations at the regional gathering of the Northwest Community Land Trust Coalition and participates in the Grounded Solutions Network national housing conference.
This fall Lisa spoke on Bainbridge Island at the annual fundraiser for Housing Resources Bainbridge. Next year OPAL Housing Director Julie Brunner will once again co-lead the Capacity Building Institute for the Northwest CLT Coalition.
None of this would happen without you. Thank you!