Northern Heights Apartments
The Opportunity
When the current owners listed this property for sale, it was clear that we needed to act. A prospective purchaser wanted to convert the property to condominiums. Instead, the sellers entered into a purchase and sale agreement with OPAL, because they want the current tenants to continue to have an affordable place to live.
We have until April 30, 2022 to raise the funds needed to purchase and renovate the apartments, otherwise the property will go back on the market. At a time when rental housing is in such high demand, we do not want to lose any existing housing.
Martha Fuller Challenge
Martha's estate has put up a $100,000 challenge to help with the purchase
of the Northern Heights Apartments. For every two dollars donated to OPAL,
Martha's estate will add one more. Your $100 will instantly be $150!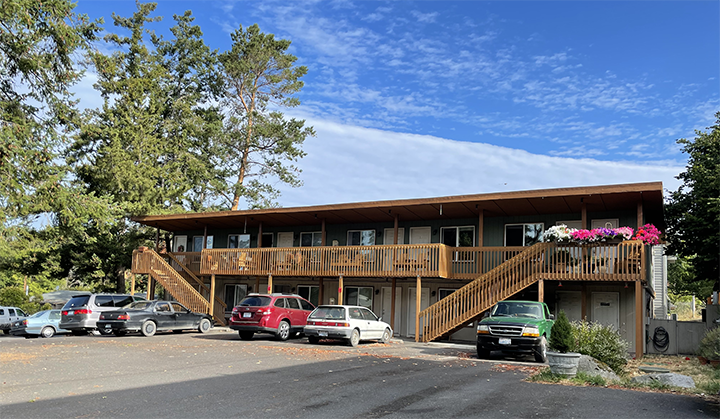 Current Tenants
The current tenants are all single individuals. Seven of them work in retail, for restaurants, or doing odd jobs. Four are seniors or have a disability that limits their ability to work. One tenant recently passed away. The current tenants have resided there for between 1.5 and 15 years, with an average of 8 years.
Condition and Scope of Work
The building is 45 years old. It has "good bones" and the current owners upgraded the decks, improved some interiors and paved the parking lot. OPAL hired inspectors to evaluate the condition and estimate maintenance needs, including repairs that will improve the health and energy efficiency of each apartment.
Why this building and why private donations?
We want to keep all existing tenants, and, as turnover occurs, welcome people with low and also moderate incomes to rent. By funding the purchase of this property with private donations and the County's Real Estate Excise Tax, we can meet a wider range of need up to 115% of the Area Median Income (annual income for a single person of $63,000).
We need your help to preserve these 12 year-round rentals!
If you would like to make a pledge that is contingent upon full funding, you can do so by emailing Lisa Byers directly at opalclt@opalclt.org.
Donations can also be made to the Orcas Island Community Foundation's fund designated for permanently affordable housing.