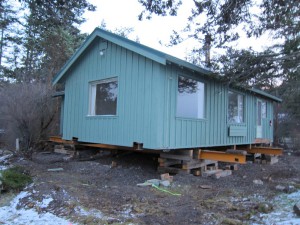 February 25-26, 2011 – A house donated to OPAL has moved to its new site at Oberon Meadow.
Between 10 p.m. on Friday and 6 a.m. on Saturday, a 1,064-sq.-ft., two-bedroom beach house, given to OPAL Community Land Trust by Bruce and Toy Baker's two sons and their families, was moved by barge and truck from its decades-old site on North Beach to its new location off Oberon Lane.
To accommodate the donated house in its new location, OPAL must seek permission from the county to revise the sub-division. Once permission is obtained, OPAL will install a road and parking area, a new foundation, utilities and renovate the house. It is expected to be ready for sale to qualifying buyers by year-end.