April 2013 – On April 11, OPAL moved a 2-bedroom house from its location on Main Street, just east of Washington Federal Bank,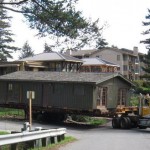 to Oberon Lane.
In recent years the building served as a vacation rental, an attorney's office, a hot tub sales store and as the home of Shearwater Kayaks. In its new location, the house joins three other buildings moved by OPAL over the past two years.
The neighborhood of four homes – all moved from different locations on the island – is called Oberon Meadow.