Mount Baker Road Apartments
Motivated by their concern about the loss of affordable housing for local families, islanders Maia and John Vechey and Dave Roberts partnered with OPAL Community Land Trust in early May to buy seven apartments on Mt. Baker Road.
"When these units went on the market, there was the very real possibility that the people living there — one household for 20 years — would lose their homes," said Lisa Byers, OPAL executive director. "Maia Vechey approached us about donating the money to buy the property. The long-time tenants could remain living there and the units, as part of OPAL, would be preserved for the long-term benefit of the Orcas community."
After the donors negotiated the purchase price and contributed the funds to pay for it, OPAL took title to the property on May 20, 2021. The effort was further supported by donations and brokerage services from Orcas Island Realty's Marcela Barrientos (and her husband Ed Andrews), Mary Clure and Lisa Wolford.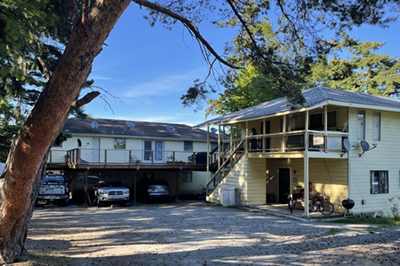 The three apartment buildings, with parking for 12 cars, occupy nearly an acre of land east of the NAPA Auto Parts store in Eastsound. Over the next two years the buildings will be updated and renovated, in keeping with OPAL's intent to provide energy-efficient, long-lasting, well maintained and comfortable places to live. The need for affordable rentals on Orcas remains high, contributing to current staffing shortages among schools and businesses. It is as important to preserve existing apartments as it is critical to also build additional ones.