OPAL's three-year initiative to sustain the vitality of our Orcas community:
increase the number of affordable rentals
expand the availability of mortgage financing
broaden OPAL's ability to help islanders keep a roof over their heads
The island's acute need for affordable housing is putting our economic viability at risk.
The lack of affordable housing on Orcas – especially rental housing – is directly affecting our local economy. Businesses can't find staff to fill jobs because prospective employees can't find places to live.
A survey of employers conducted last summer listed lack of housing as a primary barrier to hiring sufficient employees.* And the problem extends beyond our shops and restaurants. The school district, OPALCO and others need stable, affordable housing to recruit and retain qualified staff.
OPAL is proposing to help meet this need by building the first major rental development on Orcas in nearly 30 years.
Another critical piece to the housing puzzle is lack of financing. Bank rules for mortgage loans have tightened so that many previously creditworthy islanders can no longer qualify. One answer is to turn to private individuals for loans. It's a model that OPAL is pursuing and shows great promise.
* J Robertson and Company, Olympia, WA
With your support: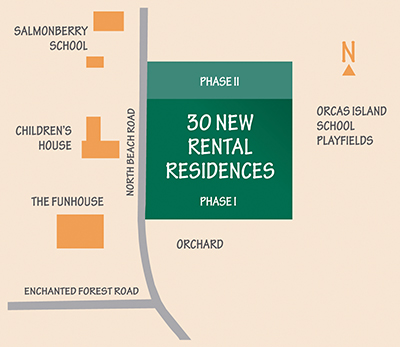 30 new affordable rentals on North Beach Road
OPAL has identified 3.8 acres of land in Eastsound, arranged to buy it from local owners (contingent on funding), hired architects, conferred with the community about needs, and done preliminary design for a campus of 30 affordable apartments – with space for 15 more. This fall OPAL will apply to the Washington State Housing Trust Fund for a $3 million grant – a key piece of the funding needed for this project. To be considered, OPAL must show community support and have in-hand (or pledged) the private dollars needed for this public-private partnership.
For there to be a chance of success, $750,000 in donations or pledges (payable over three years) is needed by September 1, 2016.
A nonprofit community-based loan fund
For the past two years, OPAL has led an effort to create a community loan fund to provide low- and moderate-income islanders with alternative financing to buy homes and put down roots. The fund would pool investment dollars from local residents and make loans to creditworthy islanders not served by local banks. Islanders Bank and Washington Federal both support this effort. Loans would serve both OPAL and non-OPAL borrowers, and OPAL is uniquely qualified to take this on. Next steps: a final regulatory review, creation of loan policies and borrowing procedures, and implementation of a pilot phase. Cost: $70,000.
Ongoing stewardship of the island's permanently affordable homes
This three-year initiative includes day-to-day operations and ongoing stewardship of the 132 houses and apartments already in OPAL's care. Cost: $150,000 a year while the rental project is being completed.
What your support for OPAL does for the Orcas community:
You encourage stable families.
With stable, affordable housing, families flourish. People become more productive, less stressed, more engaged – in their work life, community life and family life.
You support local businesses.
Affordable housing means employees have places to live, and businesses can hire qualified staff. The work of the island gets done. Paychecks are spent locally. Taxes are paid. Businesses grow. In addition, OPAL spends project dollars locally, which bolsters the island economy.
You enhance quality of life.
Affordable housing helps preserve the economic and demographic diversity and vibrant character of Orcas – with young and old, retirees and working folks, a range of incomes and abilities.
You create value that lasts.
Because OPAL houses and apartments remain permanently affordable, the benefit of your investment in affordable housing is never lost – and the value of taxpayer subsidies through federal and state grants is never lost. Your dollars benefit generations to come.
Pledge Now
Please download the pledge form in PDF format and return to the OPAL office. We, along with the entire Orcas community, appreciate your generosity.
Find out more about our "Let's do This!" initiative: download brochure and inserts.
Save
Save
Save
Save
Save
Save
Save
Save
Save
Save
Save
Save
Save
Save
Save
Save
Save
Save
Save
Save
Save
Save
Save
Save
Save
Save
Save
Save
Save
Save
Save
Save