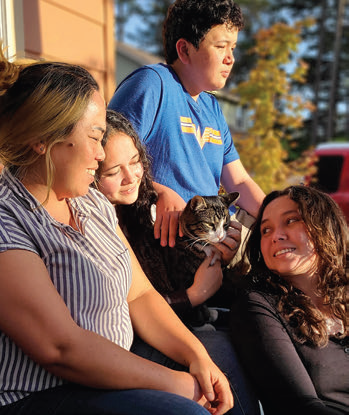 In April, 2022, as the specter of COVID-19 continued to cast a shadow over the globe, Suriadi Burns took an audacious leap of faith. Leaving her native Bali, Indonesia, she migrated with her three children, Sarah, Maria, and Thomas, to the United States. Her drive was fueled by determination to secure a brighter future and superior educational opportunities for her children.
Arriving on Orcas Island, a stark contrast to Bali, they shared a small cabin and trailer with a friend. Despite the close quarters, the family of four, bound by love, made the best of their year-round life.
Before finding their new home at an OPAL residence, they encountered several challenges. They grappled with maintaining essential infrastructures like water and septic systems, tasks often taken for granted by most residents. These became particularly challenging in the face of freezing weather. Eventually, circumstances necessitated a move from this first island home testing their resilience.
Suriadi reached a significant turning point on May 8, 2023. On her birthday, she stepped into their new house in April's Grove. The joy of finally having a secure place turned her birthday into a celebration of unforgettable proportions. With just a sleeping bag and a pillow, she was filled with a profound sense of belonging, a euphoric realization of finally having a home she could call her own. It's not merely a building. It's our home," Suriadi declared, her face radiant with joy.
Suriadi juggles three jobs to keep up with expenses. During the daytime, she works at Kingfish Inn. At night, she serves at Mijitas Mexican Kitchen restaurant. On weekends, Suriadi returns to the role of mom and caretaker.
Suriadi's resilience shines through, as she recounts her experiences, stating that the hardships she endured in her earlier housing situations have not broken her; instead, they have strengthened her resolve. She has no plans to return to Bali and is determined to work hard to become an OPAL homeowner.
Suriadi is excited about the upcoming holiday season, where she plans to decorate a Christmas tree in her front entrance for neighborhood children and to host an open house for her neighbors.
---
This year we will celebrate as community, as a family." – Suriadi Burns
---