This is my favorite picture from 2019. I'm with my two-year old granddaughter, Alice. We're at the edge of the April's Grove construction site where buildings are taking shape and some of the preserved trees are visible.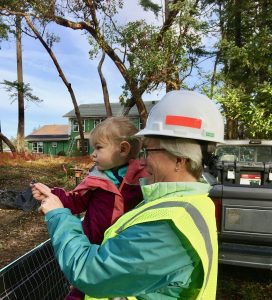 This picture has me think about the kids who need a healthy place to live. I believe that we borrow this place from future generations. I want to make it a better place for them. I wonder if that is one of the reasons why you support OPAL too?
While I often look toward the future, I don't want to rush there too quickly without first expressing my gratitude for all that we accomplished together this past year.
Most of the buzz last year was about April's Grove, the site for 45 new rental townhomes in Eastsound. In May and June the existence of the County's new Home Fund adopted by voters in 2018 and your donations pushed the project to full funding.
We started construction in May and by the end of the year we were half way done!
All the foundations and most of the site work are in place.
3 of the 11 residential buildings are fully enclosed, wired, plumbed, and have drywall and interior paint.
Another 3 buildings are nearly fully framed.
We'll start accepting applications from people who want to live at April's Grove in March (there are currently 152 households who have inquired about renting). We expect tenants to move in during the fall.
And as big an accomplishment as construction at April's Grove is, there are sixty other reasons to feel grateful about last year:
4 families purchased an existing OPAL home through resale;
2 families purchased a home that was new to OPAL in the Rosario area. These homes will remain affordable for future generations. There are now 108 OPAL ownership homes on the island;
2 individuals borrowed from the new Island Loan Fund One was able to finish building his home, and the other renovated his home so that he could provide another person with year-round housing.
52 additional individuals or couples participated in financial counseling or homebuyer education.
Thank you for helping families in their quest for a home where they can rest and get replenished. By housing our neighbors we are making Orcas Island a healthier and more resilient community.
~ Lisa Byers