Vote YES for Homes in San Juan County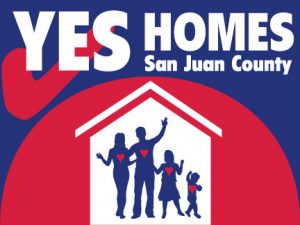 The lack of affordable housing in San Juan County is hurting island residents, stifling our economy, and degrading our communities. OPAL and other nonprofit groups have used donations and grants to provide housing – on Orcas about 5% of the year-round population lives in an OPAL home – but it is not enough. Economic trends of rising real estate prices and stagnant wages have made it harder and harder for islanders to afford a home.
In May 2018, to address the growing concern, San Juan County Council members voted unanimously to seek voter approval for a real estate excise tax (REET) to fund the development of more affordable housing. This is not an ongoing property tax, but a one-time excise tax paid at the time of a real estate sale. When adopted, the funding could enable OPAL to develop more homes – both rental and ownership – and keep homes affordable for generations to come.
OPAL Community Land Trust's trustees support this campaign and urge you to join the effort and to vote "YES for Homes" on the initiative in November 2018. To find out more about the campaign, please visit the website for the YES for Homes in San Juan County Coalition.